OFFICIAL RELEASE DATE AND LABEL TBD:  
"BEYOND" *  is a relatively new music, built on semi-structured free improvisation. Each track represents a POSITION - defined by elements of a musical lexicon related to sensations of posture and movement, plus color.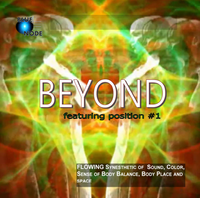 If the synesthesia of sound with two other senses ( "vestibular (balance and movement" + "proprioception (where we are in time and space) seem far-fetched, recall that music has always been associated with dance; part and parcel of social and educational rituals from mating, ceremonies, war, story-telling, even imparting esoteric knowledge.  Classical and Jazz genres have become increasingly intellectualized concert music,  far afield from its original function.   This work was authored by translating actual sensations of posture, movement, and color into unconstrained improvised envelopes.    Each envelope can stand on its own or as a building block to be amalgamated through sampling technology.  Herein are the first 8 of about 100 such modules.    
 Featuring Rakm Rekmar (bass), Kera Marmek (drums) , Mark Kramer (piano) 
* retitled from 'COITUS UNRESERVATUS'
BEYOND: The Mark Kramer Trio-D. 
Official release TBD