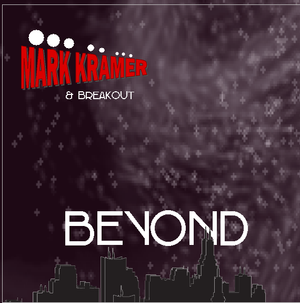 The initial experimental syneasthesically derived compositions/performances have been refined and have blossomed into more than 20 pieces,  Twelve of these have been compiled and mastered into BEYOND vol 1.
As if it were even possible – "BEYOND vol.1" - introduces a likely unique form to "jazz."   Because this master is currently seeking a partnership with a remaining highly competent art jazz label it cannot be made fully available here yet.
One example is provided of an early form.   
 "BEYOND Vol.1"  is a preliminary exploration and celebration of the meaning (advanced purpose) of being alive.  It provides the hope that our mostly untapped spiritual potential can evolve per our birthrights; for a greater purpose.     The body of work in Volume 1 suggests that the potential acceleration of human evolution is possible.   At root, its premise – by which Kramer lives - is that ours is a spiritual journey: the only thing, when genuinely graced and expressed through any craft, that can qualify as ART.    
Its follow-up i.e., BEYOND (volume 2),  musically depicts a kind of tutorial that may provide dedicated listeners some signposts as they proceed along their roads to more evolved Consciousness.  
Each track tells a story (Track names are shorthand for the story, and the story told in each track is also described in words for potential liner notes, and for writers, upon request.)  
Here are the names of the tracks for BEYOND vol.1  

Its sound signature is unique, yet it follows a natural path; one that appears to be in the natural evolutionary order of the art form.  It is JAZZ to all who have heard it.    
Its main inspiration is based upon early African Music (an expression of community, teamwork, flexible leadership, polyrhythms and poly-meters as the earliest language, dance, inflection using non-European Scale Tones, and other organic sounds, etc. ). And just about everything else derived and not derived from that!   So, also entering the brew (generally cloaked) is  "Latin", Rock, Hip Hop,  Folk World Music  (including Afro-Cuban,  South American,  Turkish, Punjabi, etc. ),  theme and variation forms (as found in European Chamber/Orchestral music), semi-free Jazz combined with disciplined structure, the groundbreaking pre-composed classical works of e.g.,  Strauss, Debussy, Scriabin, Schillinger, Reger, Bartok, early Schoenberg), elements of big band and bebop.   
The instrumentation is simply piano, bass, and drums – maybe that's what contributes to the seamlessness of the meld of so many influences.      
Hopefully, this work will find its way through top curators onto prominent global digital platforms and bear UPC and IRSC codes for consumption.   Until then, we will simply provide an example of the sound.     
Fingers and toes crossed!