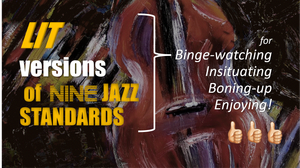 Hardly more of the same, these nine selections are from an unrehearsed unscripted live concert/ gig in upstate New York.   Mark Kramer (piano) with (Rich Mollin (bass.)  
I remember the time when dear (RIP) Mulgrew Miller sincerely and collegially asked me what tunes I'd been working on.  I sort of grunted.  He then quickly proceeded to show me some creative things he discovered and developed on some Fats Waller.  I really enjoyed his general approach, his humanity, and talent. When it came time for me to share "what I'd been working on" all I could do was to show him general principles of harmony or melody that I'd been discovering all along,. The idea of working on individual tunes was pretty foreign to me, except when I'd create a lead sheet for a duo or trio where specifying alt changes had been mandatory,  
So, when talented bassist Rich Mollin invited me to perform a gig/concert with him many hours from my home,  and having just returned home the week prior, something impulsively in me agreed.  And I was happy on many counts to have done so.
I also had just started archiving my performances on multitrack video, and I hastily threw together the less than ideal set-ups you see here.  (You can hardly ever see the pianist's left hand.) The raw files sat for months. That was good, because when I finally heard and saw them after a time they made me smile mostly.  I marveled at what could be accomplished just by being present in the moment, and by bringing one's accumulated principles of music to bear on each moment.    Rich kept up very well.   From all the above standpoints, I think the posting may help or entertain the few people who visit here often and non-anonymously.   
DO I THINK THIS IS ART?  No, I generally do not. However, the very last piece (Who Can I Turn To . . .) approaches it. 
ART in JAZZ may happen when the musicians or a group of musicians decides to invoke a new set of principles. For me, there would have to be a lot more space, concentration, with a lot more interspersed clutter/texture.  The new harmonies would follow readily expressed principles. But this is nothing I'd be able to do in this context.  When a duo says they are going to play jazz, that admission in and of itself provides the rigid structure of a straight jacket. I think we wriggled as much as is humanly possible within those constraints in this collection, Perhaps that is what makes it so compelling at times.                    
These videos are all on a youtube playlist on the MARK KRAMER MUSIC YouTube Channel as well as here. Enjoy!