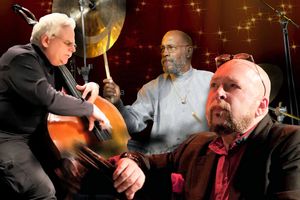 It was a great treat to play again in concert with life-long friend and master drummer Eric Kamau Gravatt.  We were graciously hosted by Paul F. at his concert salon space in Chester, Pa. (Andre-Cafe-Acoustique)   Somberly, missing was our comrade bassist Charles Fambrough, but Craig Thomas did make a solid contribution. 
This was a good experiment. I decided in advance to unleash my more energetic rhythmic jazz-fusion side - one kept quite intentionally at bay for years. Why so? - is a topic for another time.  Perhaps at this event, I just wanted to experience anew some earlier muscular states of musical being; to give Eric the showcase he deserved.    Fortunately, my comfort zone nearly adapted.   Working in the same core of musicians for years, it never occurred to me that a rehearsal would have been good.  Yet, in reviewing the videos, I felt that we were at only 33% capacity.  Why so? On this, I have many theories, but at root am clueless. 
I am actually very happy.   My earliest jazz sensibilities were informed by both Eric and Charles. In those days we took buses to gigs and carted each other's instruments for many blocks.  All this precious stuff flooded me as I'd already forgotten way too much.,  
Next time there could be at least one rehearsal - not for the notes on the page, but to loosely define a common musical framework for our "here and now," 
I hope you enjoy our session. I relish it as a wonderful milestone in this life.     
These videos are all on a youtube playlist as well as here Enjoy!