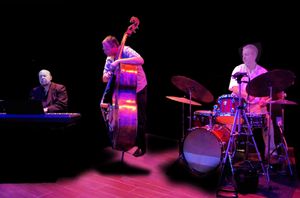 I could not be the first to observe that accomplished jazz piano soloists, jazz piano-bass duos, and even piano-bass-drum trios playing in restaurants or bars are generally relegated to the background for dinner or bar conversation.  This has been the public's general attitude in most places ever since the late 50s as best as I can tell.    One can never expect great concert conditions in such places, as that is not how they are billed.   But a few moments of authentic connection with patrons can be precious. And you know it doesn't matter whether it's the public in NYC or Hoboken, whether it's a famous musician/ ensemble, whether the joint is upscale or a dive, has a jazz reputation (think about Bradley's!!) , whether the piano is of the grand Steinway class, whether the jazz is pop oriented or esoteric, whether sound reinforcement is superb or crap, whether the music is upbeat or brooding, loud or quiet, whether the musicians try to verbally interact with the public, or surprisingly whether or not the musician(s) sings. 
Yet, the local bar-restaurant settings (those that are still employing jazz musicians) are often the trusty home-base   - -  the creative laboratories - - even for many of the most accomplished concert-circuit jazz musicians. The owners of such places – many who love jazz – are generally skittish about charging for the music (although they must in some way) or enforcing a listening policy.   It would be an understatement to say that the clatter of dishes, silverware, sliding chairs, and boisterous conversations just a few feet from the players, flickering of TVs hung every few feet, are major distractions. These would be total liabilities re the creative process if it were not for their role in helping interested musicians develop super-human powers of concentration.  It is no small feat to be able to filter-out these intrusions if only to hear the notes that the bassists are playing. 
One must be disciplined not to take the brutish behavior of the public personally.  But we do at times.  When that happens, the performances are at risk for being "phoned in" amidst thinly veiled frustration and anger.  Remember, even in the noisiest of rooms we are sometimes surprised by the approach of a patron who somehow heard us and who stops by to express genuinely heartfelt appreciation.  
So, I stumbled upon, developed and then maintained the following attitude:  that if my music could only tap into an uncommonly rarified vibration, then people would be drawn to the flame and just shut up.   However, the quality of awareness which makes that possible is hardly often within one's grasp.  To be so inspired - - despite those horrible conditions - - - as to attract the natural surrender of one's own and the public's narcissism,  provides one with a nearly impossible, but authentically high, perfectly objective, standard of excellence. 
So, when you hear the beautifully quiet recordings and enthusiastic jazz audiences at our Hong Kong Fusion "Concert" Room (e.g., Magenta  CD of about 12 posted) realize that the venue had only initially been an extension of a noisy restaurant, albeit one with extraordinary cuisine and a daring owner.    In future entries here, I should explain how this transformation took place, the successes realized, and with only the most modest of casualties along the way.   Believe it or not, musicians need to decide whether they would rather just suffer and complain about their working conditions or otherwise productively pilot creative solutions to their conundrum.  
Mark